4 Lanes High Speed Napkin Paper Machine
ACE is manufacturer high speed napkin paper machine in China
Technical parameters as below
table napkin machine with 2 colors printing

| | |
| --- | --- |
| Model | TNM-2L-4H Double Decks 4 Heads Lanes Super High Speed Napkin Machine |
| Speed | 4000 sheet/min, depends on napkin size, paper quality etc. |
| Napkin size | 200x200mm, 300x300mm, 330x330mm, 400x400mm, 430x430mm etc. or customized. |
| Folding type | 1/4 luncheon napkin machine, 1/6 tallfold dispenser napkin machine and 1/8 fold. |
| Printing | 1-4 colors printing |
| Power | 4.5KW |
| Electricity | 3phase 380V 50hz or 3phase 220v 60hz or customized. |
Below video of the
high speed napkin paper machine in China
for your reference.
Below pictures of
high speed napkin paper machine which is from China manufacturers but has Taiwan design high quality for reference.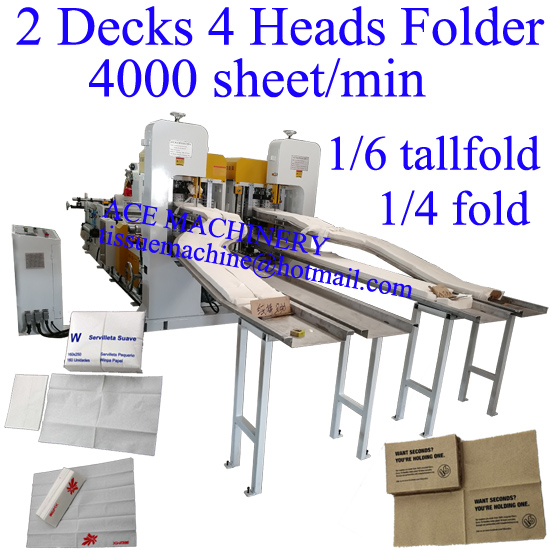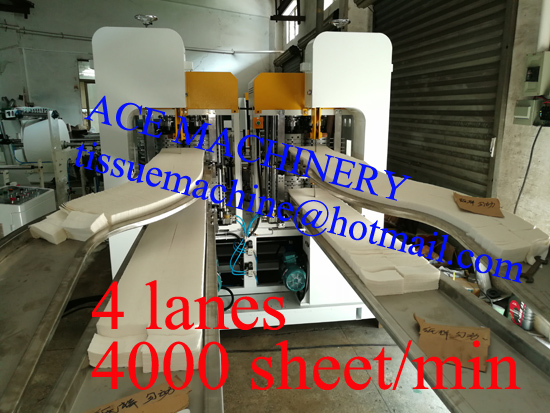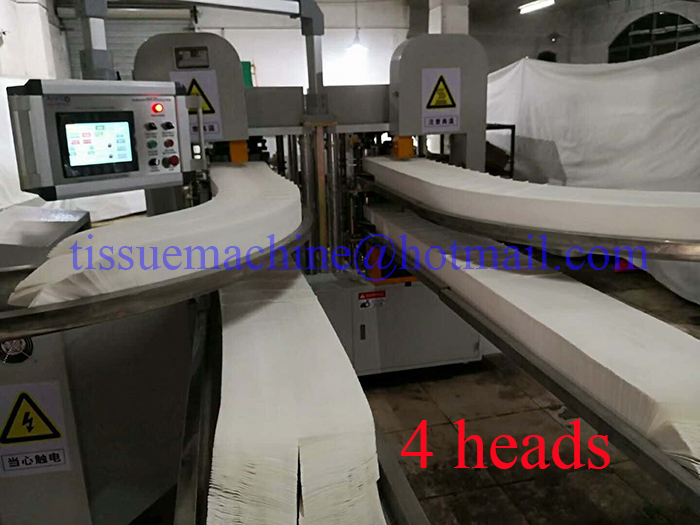 TNM-2L-4H 4Lanes Super High Speed Lunch Napkin Machine
Technical parameter:
A. back stand
1. Parent roll specification: 16-75g/m2 1-ply; 13-18gsm 2 plies tissue paper. Or customized.
2. Parent roll size: ≤1500mm x1200mm.( 300mm*4lanes = 1200mm.) Diameter x Width
3. Core inner diameter: 76mm
4. Unwind belt for the parent roll to be on top of the roll instead of the bottom
5. The parent roll is driven by an independent motor. NOT belts.
6. Thickened steel wallboard structure to reduce vibration while running high speed running.
B. Feeding Section
1. One feeding paper frame;
2. Pneumatic cylinder control
3. Stepless adjusting speed to control web-tension of paper.
4. Auto adjustment setting
5. With pneumatic system to automatically load jumbo rolls.
6. With Tension Balance Beam.(Dancing rollers) to auto control the wen tension.
7. The jumbo roll is driven by an independent motor.
C. Embossing Section
1. With 1 set of steel to paper embossing unit. (Embossing pattern provided by client or recommend by us)
2. Embossing tension is adjustable.
3. Mechanical press type.
4. With safety guards.
5. With optical sensors to detect paper break, if paper breaks, machine will stop automatically.
6. Driven by an independent motor. NOT Chains or belts.
7. Thickened steel wallboard structure to reduce vibration while running high speed running..
D. Folding Section
1. Napkin sizes. Other sizes available. Please contact us.
Open size: 300x300mm
Folded size: 150x150mm
Cutoff size: about 300mm.
2. Folder type: mechanical folding type, 1/4 quarter fold type.
3. Synchronizer for feeding paper
4. The gap and distance between two folding rollers can be adjustable to fit for different paper gsm and thickness.
5. With 3 sets of slitting blades.
6. With double decks 4 heads output delivery. (Double decks available)
7. Capacity: About 300m/min, about 1000sheet/min/lane * 4lanes = 4000 sheet/min total, depending on paper quality, gsm and workers operation.
8. With automatic counting unit, every count 1 - 99999 sheet/count. With tissue pop up every count.
9. With "guard doors" for the folding head.
10. With automatic sharpening system for grinding the bandsaws.
11. With easy system for Changing Band Saw. There are slots on the tray so that the operator can slide the band saw out without removing any other parts, when he needs to change the band saw.
12. Can be designed to make both 1/4 quarterfold napkins and 1/6 tallfold napkins.(Need customized and both 1/4 and 1/6 must have same cutoff size.)
13. Driven by an independent motor. NOT chains or belts.
E. Control system
1. Controlled by Inverter.
2. With JOG function, easy for threading the paper and maintenance. With 2 JOG buttons on the control box (which is near the folding head) and near the parent roll.
3. With emergency stop function, better for safety, you can stop the machine any time when there is emergency.
4. With alarm system-----alarm that goes off when the machine gets started.
5. With 2 locations to adjust the paper tension, one is near the parent roll, the other is on the top of the folding head.
6. With auto grease fittings system. Automatically feed the grease to the main bearings to prolong the life span of the bearings.
7. With auto sensors for detecting paper breaks or used up. Machine will automatically stop if paper breaks or used up.
8. Famous brand motor.
9. Power: about 7.5 to 11 kw (3-phase AC380V 50Hz or customized)
10. Pressure: 0.5MPa.
11. Machine size:6x2x2(M)
12. Weight: about 6000 kg